Step into the paradise full of grand entertainment activities, wholesome hospitality, crisp natural wind, plush facilities and mindblowing services-"Corbett Leela Vilas". Next to renowned Corbett national park, it tenders you a placidly conspicuous crusty plush amenities to make your holidays stupendous and audacious.
Ramnagar railway station is about 4 mile and Kosi River is 1 mile away from the hotel.The nearby attractions for toursists are Corbett national park' Birani zone and Dhikala zone,which are placed at a distance of 4 km from the hotel.
Once your are at this hotel,you will love to come back soon. All the comforts and rejuvenating treatments offered at the hotel will let you have a wonderful experience and good memories.
Accommodations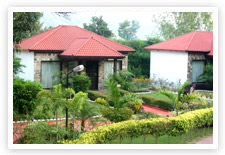 It has set its own identity in no time and offers a rich style of living in a well designed and ornamented rooms. Coalescing the jungle life with contemporary eases, Corbett Leela Vilas create an tempting ambiance for the guests.
There are around 14 rooms in the Corbett Leela Vilas; each room offers a tremendous and comfortable stay. All the rooms are endowed with bountiful amenities to suit the taste and needs of the guests. Besides this, there is a living room where folks can sit and enjoy watching any channel on the TV.
Facilities
The facilities offered at the resort add elegance to your wildlife tour and make it more comfortable and exhilarating after returning back from various adventures.
Welcome Drink on Arrival
1 Nights Accommodation on double sharing basis
Morning and afternoon tea
All meals (Breakfast, lunch and dinner)
All taxes

Services
24 Hour Room Service
Laundry service
Travel desk
Credit cards acceptance
Swimming pool
Children pool
Gym center

How to Reach
Corbett Leela Vilas is easily accessible by road, train or air. The nearest airport is Delhi, while the Ramnagar railway station is 5 km from the hotel.
top