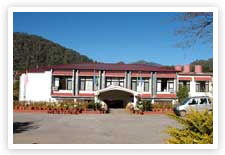 Board the "country Inn Resort" to experience the wonderful journey packed with natural beauty, tranquility, unique facilities and a bunch of exciting adventure activities. Perching on a land blessed with greenery and next to Jim Corbett national park; the resort tenders an exclusive opportunity to view the different species of wildlife in its natural habitat. The holiday at the resort will get you exhilarated and add a peace and comfort to your overall stay.
Accommodation
This eco-friendly resort offers a sum of 32 rooms which are divided as cottages, double rooms, suites and deluxe rooms with bountiful facilities. The most exceptional place to live at Corbett Inn Resort is the tree top cottage, which is ornamented with glass and is 30 feet off the ground amid the mango groves. In addition, grand setting has been done for the formal and informal gatherings in a theater and u-shaped style rooms with a capacity to accommodate 200 people at a time.
Dining
The resort brings a dining at the beautiful location overlooking the rich scenery and paddy fields with refreshing treats, which will thaw out like an ice-cream in your mouth. All the dishes are made by the experienced cooks to fuel your taste buds.
Facilities
The facilities that can bring the fine words on the orifice of the guests are offered at the resort. You can glance below at some of the facilities cherished by most of the visitors:
Swimming pool
Luggage storage
Laundry services
Multi cuisine restaurant
Entertainment activities
Air conditioned rooms
Fitness center
Ayurvedic massage
Travel desk