Posted on

11 Apr 2013

1:12 pm
Jim Corbett national park has emerged as one of the best spots on earth to catch the perfect glimpses of various wildlife creatures and have complete adventure in its premises only. But did you know that the park has a fascinating activity known as angling that nearly every visitor thronging to Corbett experience it? If no, then this time make it your first priority among the other fun-filled activities. The park boasts of beautiful rivers like Ramganga, Sonanadi and Kosi, which are filled with diverse varieties of water species that makes it a superb destination for travellers.
Legendary fishes in Corbett
Being dwelling of quite a lot of diverse fishes, the main allures of Corbett are Cat Fish and Mahseer Fish, which have been luring the visitors the most on their tour.
Mahseer Fish
Famed to be the hardest fighting fish on the soil, Mahseer Fish is found in galore in the Rivers of Corbett. It has drawn out body with barbed nose and reddish-yellow wings. Moreover, the fish has a superb whiffing sense and as a result smell a food at a little distance away.
Live bait and spinning fishing could be the best approach for grabbing a hold of the golden Mahseer Fish. Since it is hailed as the tiger of the river, one has to be strong enough to get it out of the water.
Though fishing and angling for Mahseer is a great enjoyment, it needs great physical fortitude, determination and speed.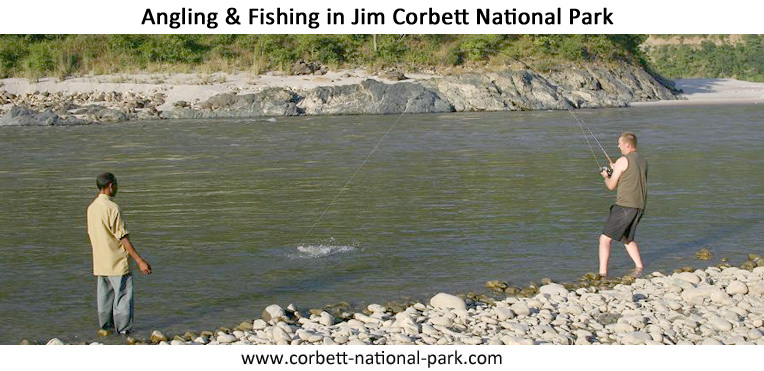 Fortunate ones get a chance to encounter the red fins Mahseer.
Goonch
Those who want to witness the true beast of the stream can go for Goonch (catfish), is a clean water forager, seen on the top and bottom of the rapids in the fastest river. Catching this big one is not easy due to its huge size and weight. Even the scores of determined anglers have been remained unsuccessful in getting their hands on it.
Perfect time for angling and fishing in Jim Corbett National Park
Although one can relish fishing round the year, the best time to test your skill and endurance is from April to June and October to November. So be prepared for the experience like never before in the foothills of Himalayas.
What one must carry for Corbett Fishing Tour?
– Sneakers
– Sunglasses
– Antiseptic lotions
– Fishing equipment (rod and reel, hooks etc)
Experience the superb attraction of Jim Corbett National Park – Fishing and Angling for ultimate pleasure. With superb views of the beautiful surroundings and extreme adventure, you are sure to take away pleasant memories that you will love to treasure for the rest of your life.