Posted on

22 Apr 2013

12:11 pm
Yet another inspiring story of India Wildlife Conservation has taken a boon in the nation. As everyone is aware, India is taking the most active participation in wildlife conservation since 1972, with the introduction of Tiger projects in its famous sanctuaries including the Corbett National Park; the attempts are really increasing the awareness among the wildlife lovers and the general public.  Where one end, the nation is raising funds for the welfare of wildlife through various media channels & documentary films and social media platforms, the one best educative measure is- activating the issue of wildlife conservation now a days.
The Central Board of Secondary Education is ready to conduct an inter-school online competition to raise awareness of tiger conservation among the students and educated mentors. The interested schools are enrolling for free of cost by 29th of April at SAEVUS Wildlife India, India's leading wildlife and natural history magazine. With this three-tiered internal online test, the students will be asked to showcase their creativities through originating a story or a poem in about 500 words, generated through some of the video clips on tigers. The next round will take the winners of "Earn your Stripes" to the tiger warrior camp to understand the forests and animals, their stakeholders, protection of forests, studying the dependents living in the forest and most importantly, tigers' behavior.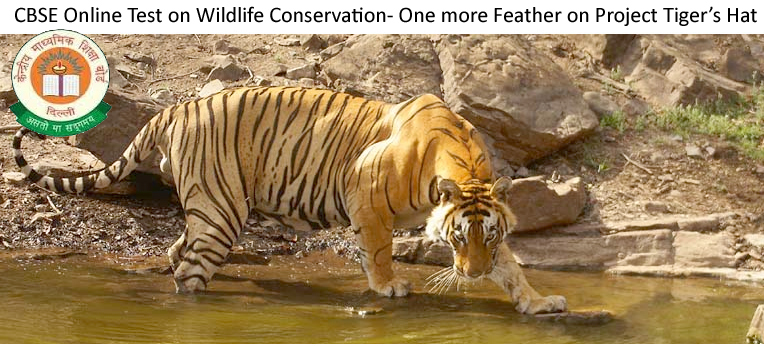 The camp will be organized in Ranthambore National Park, ironically which was once the hunting preserve of Maharajas of Jaipur and is one of the Project Tiger Reserves in India. The winners of round 2 will be rewarded and felicitated at Mumbai's function. The round 3, the Grand Finale will comprise of a program with various activities like photo exhibitions, music performances, drama competition and felicitation of all winners on July 29.
This was the most recent story of tiger conservation where the keen schools will appear in a more rejuvenating form to bring their participation. As everyone is aware of the Tiger Project in India which is taking grand shape in nation and is bringing good fortunes for the tigers in their population and up keeping, some schools are also brining animal adoption as a permanent project in the school where they are arranging trips for the students to tiger safari for adopting animals. Being the active part of tiger project, some schools have also been found with creating projects on biodiversity to get closer to the wildlife.
From such great impressive evidences, it is now so satiated to find the value of wildlife conservation in India and this is the root cause to attract tremendous tourists in India to catch the magnanimous glimpses of wild creatures at different sanctuaries like Corbett, Ranthambore, Sariska, Kaziranga and more to enjoy the India wildlife tour.