Posted on

06 Jul 2012

10:00 am
How many of you have used the social networking sites like Facebook, Twitter in a more functional and purposeful manner? I bet, everyone will have the social network accounts and the world is connected with it in many ways. Not only for the ad-on, but these sites are the only medium to share your updates in the form of photos, videos and blog posts and thus sharing something noble in your account for promoting purpose; is the most demanding ways for the social media users.
Using the power of social media for social welfare is a very noble function and that of course includes the promotion of the wildlife conservation especially the wild species like Indian tigers. Surprisingly, where one end is talking about the merciless poaching of these innocent creatures, the world is taking multiple initiatives to create awareness among the individuals through various ways; and social media are among one of them where people find independence in sharing their views and opinions publicly.
Common guys, how long will we talk about the lost species and will hue and cry for "only 1411 left". It is time now to discover and follow the present species and catch their glimpses at various tiger reserves in India.  Interestingly, many people make a majestic trip to appreciate these wild beasts and capture them in their cameras and then upload them in their websites. Others may "like" the post, comment on them or "share" them thus brings great publicity to these places (wild reserves).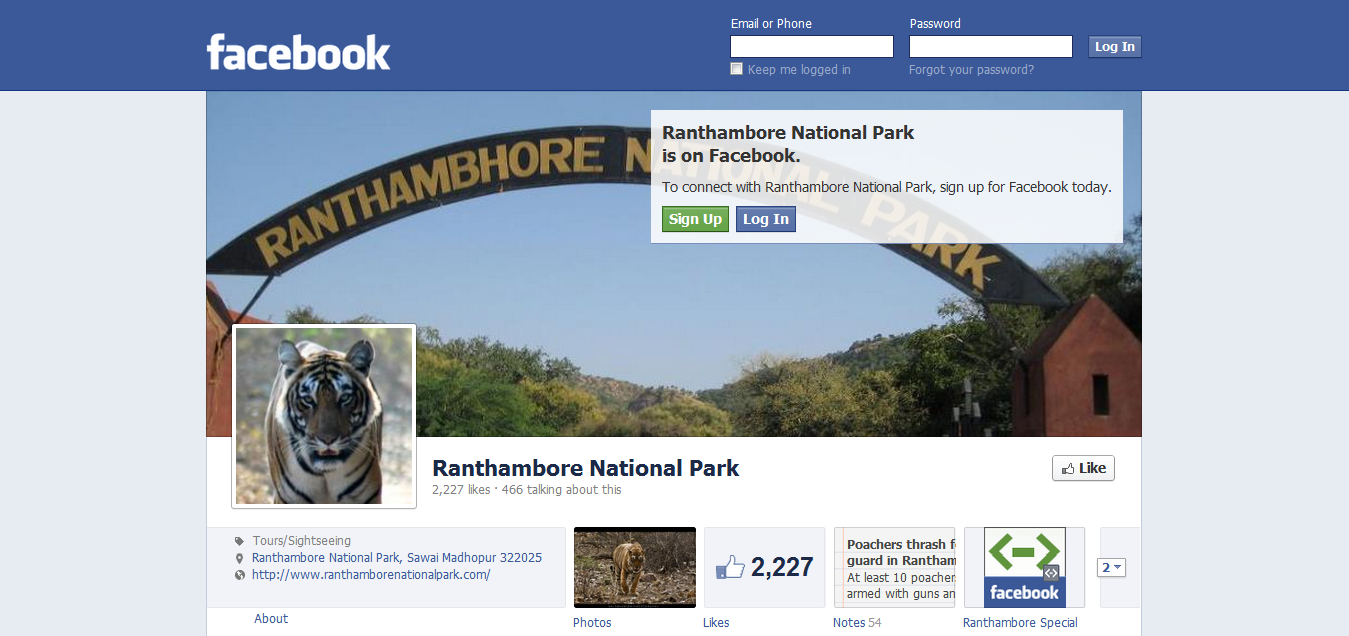 Facebook Page: https://www.facebook.com/ranthamborenationalpark
A British conservationist Julian Matthews has created a social media group to allow free membership to the people especially the "tiger lovers" to follow their favorite tigers especially in Bandhavgarh and Ranthambore. He himself has extracted the database and collected information to find that Ranthambhore has 46 tigers (22 new cubs, born between October 2011 and May 2012) while Bandhavgarh has 26 identified tigers and several unrecorded ones. Surprisingly, these data were being discovered through the citizen photography by mapping and tracking the population. Thanks to the animal lovers and to their amazing cameras.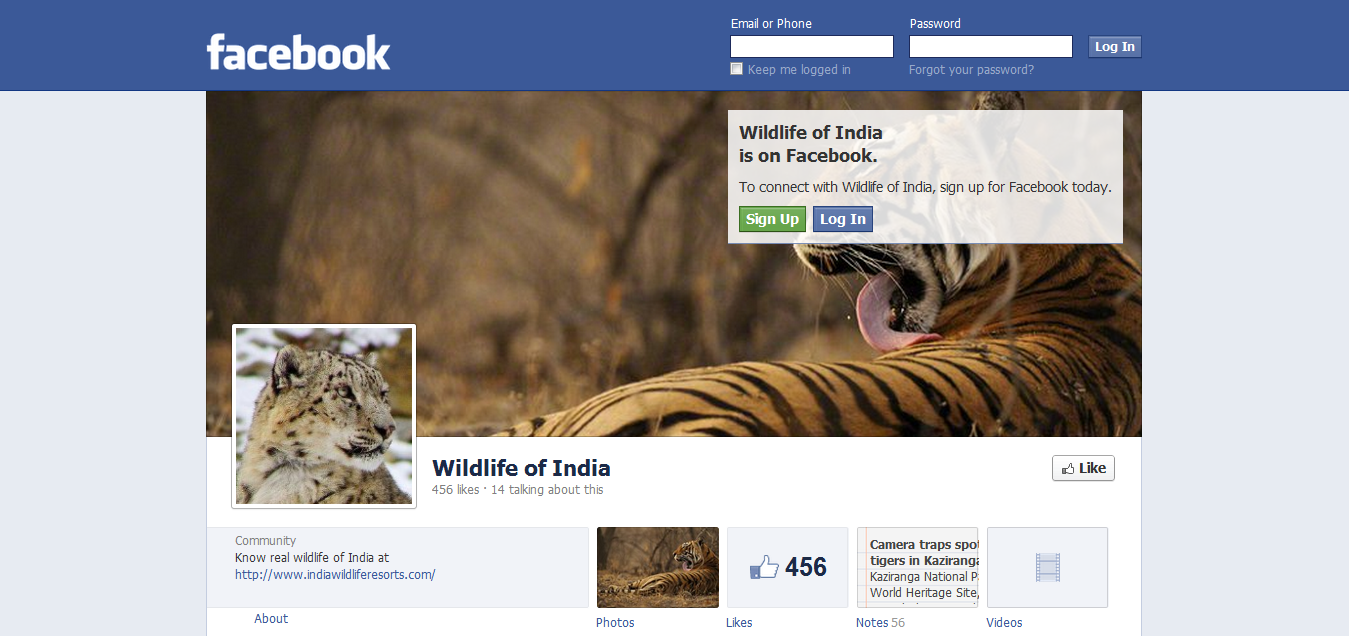 Facebook Page:   http://www.facebook.com/indiawildlife
Consequently, the experienced conservationists thus identify the uploaded tigers and compare them with their present databases. "The mapping and tracking of the population through citizen photography creates a better chance of survival"- says Satyendra Tiwari, a lodge owner in Bandhavgarh.
In an another rapid story, the importance of Facebook thus being highlighted specially for the tiger conservation when we find thousands of shares being posted to expose the brutal poaching or the pretty presence of these majestic demons amidst the dense jungles. Quite interesting to discover that India is the third largest user of Facebook and in the coming three years the counts are expected to be more. As it allows to "share", "like" and "follow" the popular social organization, a concept of tiger preservation thus blooms heartily under its shade.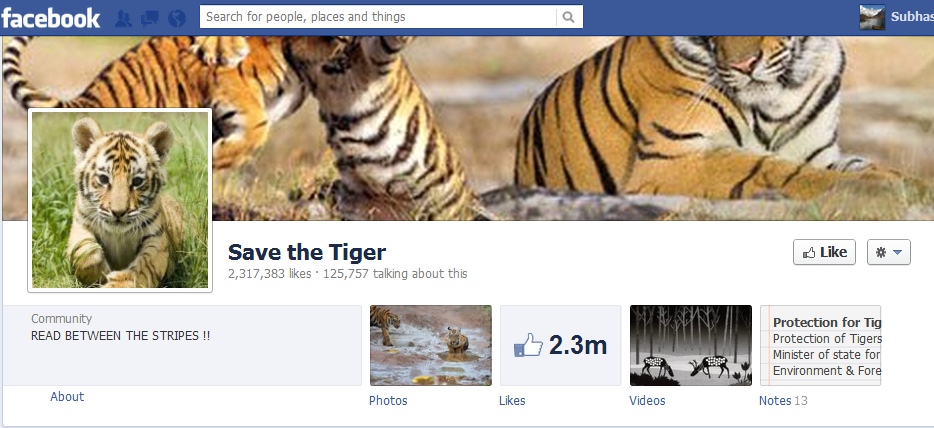 Facebook Page:  https://www.facebook.com/savethetigerindia
An excerpt from an example of a 21 year old engineering student, Ramit Singal signifies how Facebook brings a marvelous contribution in preserving the endangered species. Being an avian fan, Singal discovered that the set up of a cement factory will affect the nearby migratory birds; he uploaded a before and after photograph of that area on Facebook and surprisingly, received more than 100 shares in one day. Further, a non profitable portal, 'Conservation India', jumped in and after four applications and repeated visits to the municipal authorities an investigation was ordered and finally the construction was halted being revealing upon the presence of fly ash in the factory.
Apart from that the launch of a new iPhone app has exposed the power and portability of the mobile devices that allows the users to upload pictures and data spotted in real time. With project NOAH Rangers, the younger members can edit content, identify species with technical support. Interestingly, users can easily log in through their existing accounts on Facebook and Gmail.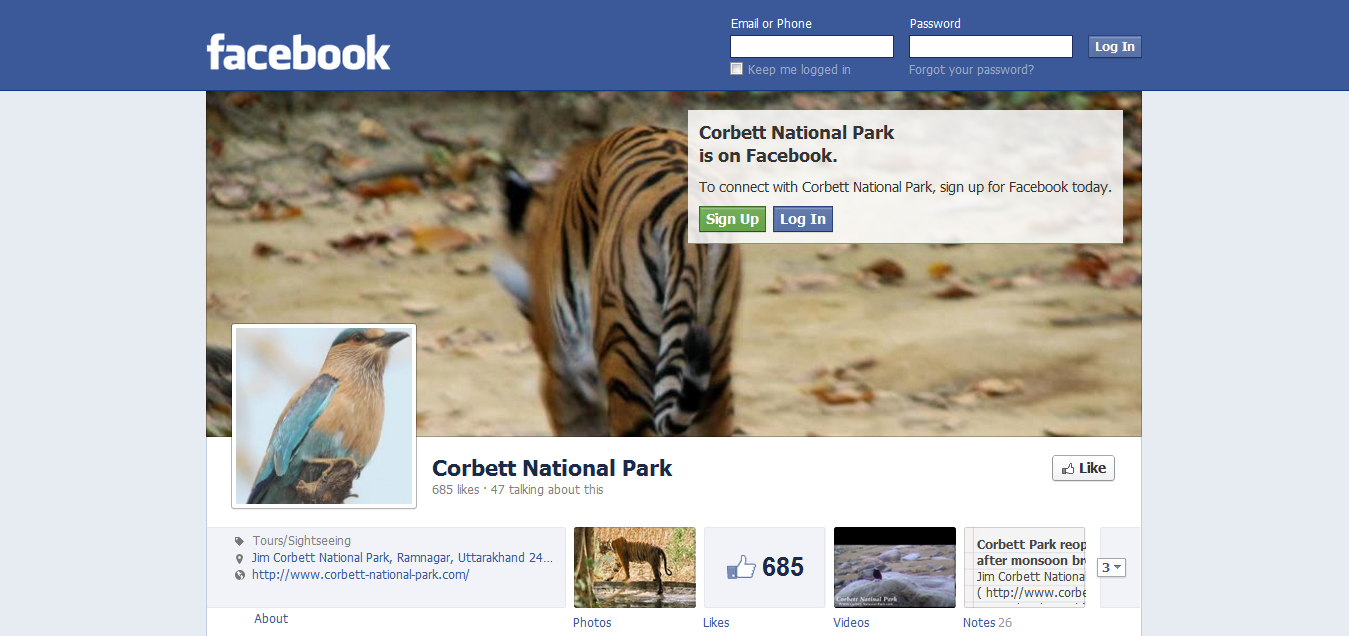 Facebook Page: https://www.facebook.com/corbettnationalpark/
Bringing greater and nobler advantages to the wildlife preservation and saving the tiger species, Facebook and other social media groups have contributed very effectively with their catchy applications and features. A world which is interestingly free to join, share and comment our views and can definitely appreciate the natural world which is filled with so many amazing creatures.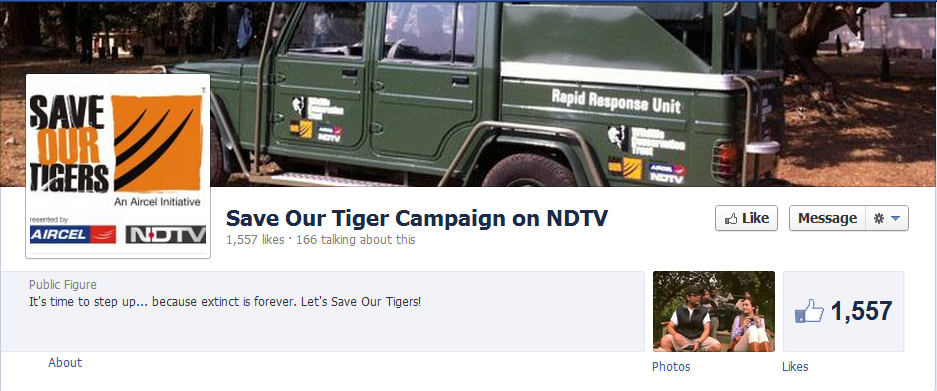 Facebook Page:  https://www.facebook.com/ndtvsaveourtigers
*Inspired from the article by Yolande D'Mello – The Times Group Network.
You may also like to read