Posted on

23 Jun 2015

6:26 am
Long gone are the days when people used to rush to Africa for game hunting safaris and jeep safaris. Nowadays there are multiple wildlife destinations in India which are protected by the ministry for tourism purpose that provides striating jeep safari options. Whether you want to go deep in Keoladeo or follow the big cat in Jim Corbett National Park, a trip to wildlife reserve of India is a life changing experience.
A wildlife safari is worth every penny spent. Here is our pick of best wildlife destinations in India where you can experience the best jeep safari.
Jim Corbett National Park, Uttrakhand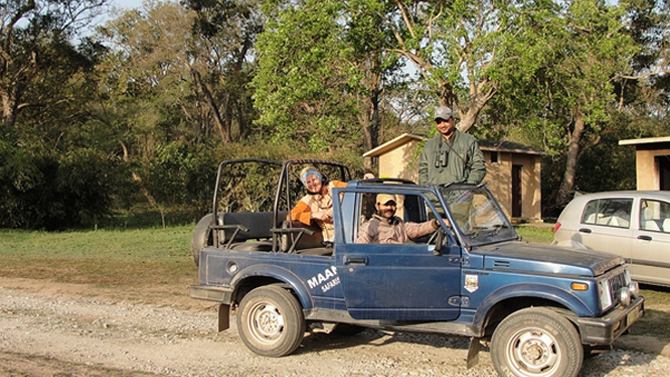 The idea of encompassing 1318 sq km area in a jeep safari is fascinating. On a jeep safari trip to Jim Corbett, you can see a plethora of animals, birds, mammals, all enjoying in their natural habitat. Don't forget to carry binoculars and spot more than 500 species of birds, 48 mammal species and 23 species of replies. Your jeep safari tour will start from Ramnagar, further the four tyre vehicle will take you to the most picturesque places of Corbett. If you want to take a break from the regular jeep ride than canter and elephant safari are also available at your service. Though there are many options available to encompass the jungle but the best way to explore is through jeep safari as you can see a lot within a short span of time. Details of the jeep safari timings are mentioned below:
Location: Uttarakhand
Best Time to Visit: Mid November – Mid April
Zones: Bijrani, Durga Devi, Jhirna, Dhikala (only for those who stay in Forest Lodges at Dhikala Zone)
Morning:
Summers: 06:00-09:00 HRS
Winters: 07:00-10:00 HRS
Evening:
Summers: 16:30-18:00 HRS
Winters: 15:00-17:00 HRS
*Only 30 jeeps are allowed to enter in a zone at one time
Ranthambore National Park, Rajasthan
In India, fortunately, there are many national parks to experience wilderness but the best and most accessible amongst them is Ranthambore. Needless to say, that park is famous for spotting tiger but other than the wildcat here you can see deers grazing on the green pastures. Here, you can see hosts of birds like a kingfisher, sandpiper, jacana, saras crane, fowls and many more. Jeep safari tour in Ranthambore will take you to some interesting tiger haunts along with many ample photo options. You can also see the grandeurs of Rajasthan even in its wildlife reserves. Jeep safari will take to some fascinating places in Ranthambore that are waiting for the attention of many tourists – Ranthambore fort, Ganesha temples and Mahadev temple. This jeep safari might show you some famed tiger and tigress namely Krishna or T-19, Suraj or T-65 and Noor or T-39 with her two cubs.
Location: Rajasthan
Best Time to Visit: October to end of June
Safari Timings:
Morning:
Summers: 06:30-10:30 HRS
Winters: 06:00-10:00 HRS
Evening:
Summers: 14:30-18:30 HRS
Winters: 14:00-18:00 HRS
Keoladeo National Park/ Bharatpur Bird Sanctuary, Rajasthan
As a kid, we all used to love watching colourful birds, formation of pigeons, peacocks dancing during monsoon season or the koel chipping on the newly flowered tree. If you or your kid loves to spot birds then you should go for a jeep safari tour at Bharatpur National Park. The dense woodland of Bharatpur is home to more than 300 species of birds, of which Siberian Crane, Waterfowl and White Breasted Kingfisher are the most impressive. One of the best ways to explore this bird land is by traversing over a jeep safari. The jeep safari tour will take you to some palaces and lakes that were the home ground of bird hunters.
Best Time to Visit: November to March
Location: Rajasthan
Safari Timings:
Morning Timings: 07:30-09:30 HRS
Afternoon Timing: 13:30: 15:30 HRS
Bandipur National Park,Karnataka
Chances of spotting a tiger here are quite bright. Perched calmly in Karnataka, Bandipur is the favourite places for tourists who want love to see animals in their habitat. Here you will not be doing trekking or signing up for any lavish car, but in open air jeep safari. Rocky terrains, carpeted pastures, steep ridges make it a perfect habitation for birds and animals. Other than the wildcat, tiger, the sanctuary is also famous for an astonishing variety of elephants and deer too. Jeep safari tour in Bandipur will take you to the wilderness of different zones. Rocky terrains of Bandipur are amongst the perfect place that boast of rich and vivid creatures.
Best time to Visit: January to June & October to December
Safari Timings :
Morning: 06:00-09:00 HRS
Evening: 16:00 – 18:00 HRS
Tadoba National Park, Maharashtra
Tadoba National Park is the favourite wildlife reserve for adventurers, nature buffs and wildlife enthusiasts. Here you can indulge in sheer leisure and never know you may spot a tiger as well. Deemed as the "The Jewel of Vidharba," Tadoba National Park is one of the tiger territories in India. Apart from tigers, here tourists can see Chausinga, Sambars, Barking Deer, Sloth Bear, Neel Gai, Indian Bison, Wild Dog, Wild Boar and Leopard. If you want to explore the best of the national park then it will be better to hop in a jeep. 36 gipsy cars are allowed to enter the park and hence prior booking is mandatory. The park is smaller in size and, therefore, the chances of spotting a tiger here are good. The national park offers the best wildlife viewing throughout the year..
Best Time to Visit: February to May
Safari Timings:
Morning Timings: 06:00 – 10:00 HRS (entry allowed until 08:00 HRS)
Afternoon Timings: 15:00 -18:00 HRS (entry allowed until 16:30 HRS)
Gir National Park , Gujarat
Gir is rousing safari attention with stark beauty, marshy terrains, and evolving landscapes. There's something special spending a jeep safari tour in some of the best wildlife sanctuaries in India. Set against the marshy hills, the Gir National Park is the home of the endangered Asiatic lions. You can explore every nook and corner of the national park by hopping in a jeep or an open gypsy. Probably this is the only way to explore the national park. The forest is sprawled over the hilly region of Gujarat, half way between Veraval and Junagarh. The park is a great destination for birdwatchers too. The park is resident to more than 300 animals and birds. Come and experience the nature at its best!
Best Time to Visit: December to March
Timings:
Morning Timings
06:00-09:00 HRS
09:00-12:00 HRS
Evening Timings
15:00-18:00 HRS
Pench National Park, Madhya Pradesh
Pench national Park is an ideal retreat for those who are looking for an easy going jeep safari tour. What's the most thrilling thing to do here? Well, it's to go on a jungle safari. Some of the common animals that inhabit this forest include the leopard, jungle cat, hyena, fox, jackal, sloth bear, wild boar and a wide range from the deer family. Here, birdlife is equally bountiful. The feathered denizens of Pench include both resident and migratory birds like Malabar pied hornbills, Indian pittas, ospreys, grey-headed fishing eagles, white-eyed buzzards, storks, etc.
Best Time to Visit: October to February
Location: Madhya Pradesh
Safari Timings:
Morning
Summer: 06:30 -09:30 HRS
Winter: 07:30 -10:30 HRS
Evening
Summer: 1600 hrs-1830 HRS
Winter 1500 hrs- 1730 HRS
Going Further, Consider Following Things Before Booking a Jeep Safari in National Parks:
Prior booking of jeep safari is mandatory as there are limited safaris.
Carrying ID proof at safari time to show the same original proof.
Maximum 6 persons can accommodate in one jeep along with one government guide.
Specific paths are maintained for the vehicle to make the guest watch wildlife. Never insist the guide to drive off the track as you may lose the track inside the forest.
Next time, you plan a jungle trip then visit these enchanting places for the best safari. Call your friends, family, relatives and hit the road to embark on a journey to the jungles. The season's coming!