Corbett Elephant Safari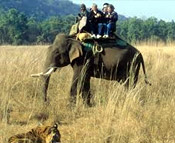 Duration : 09 nights & 10 days
Destinations Covered : Delhi /Corbett National Park /Domunda / Lehachaur / Rathuadab / Vatanvasa / Dhikala / Corbett /Delhi

Itinerary for Corbett Elephant Safari
Day 01 : Arrive Delhi :
On arrival met at the airport and transfer to the hotel, O/N stay at hotel.
Day 02 : Delhi / Corbett
Transfer to Delhi by surface ( 7-8 Hrs ) Upon arrival, check in at the wildlife resort rest of the day, Birding at river KOSI. Evening briefing about the safari. Overnight at the resort.
Day 03 : Resort / Dugradevi Gate / Domunda:
Transfer by jeep to Durgadevi Gate, From gate, be on elephant To Dumanda. On safari to domunda some bird species like Great hornbills, Orintal Pied Hornbills, Brown Fish Owl, Tawny Fish Owl, variety of Wood Peckers,Oriols, Minivets and Drongos may be seen. Animal life includes Spotted deer, Sambhar deer,Wild Boar,Hog deer.Leopard and Tiger Overnight camping at Domunda close to Ramganga River.
Day 04:- Corbett Natonal Park - Delhi
You may wake up to the listening of alarm calls by Spotted deer as a tiger may be close in the forest. After breakfast, Start safari to Lehachaur Over night at Lehachaur room and Camping.
Day 05 : Lehachaur / Maidavan / Rathuadab:
Start after early breakfast,The elephant through the thick forest Will enter the valley MANDAL,The most scenic valley. The Mandal river follows till Maidavan,stop for lunch.After lunch.Safari till Rathuadab. Overnight at rooms and camps.
Day 06 : Rathuadab / Vatanvasa:
Safari after breakfast till Mundiapani, Lunch at Mundiapani,continew till Vatanvasa. Overnight at Vatanvasa ( Camping )
Day 07 : Vatanvasa / Dhikala:
Safari till Kanda,Stop for lunch then to Dhikala Several opportunities to view wild life as you go Through territory of Tigers and other animals.Sightings of wild Elephants are also possible. Overnight at Forest rest house,Dhikala.( rooms ) Here ,at Dhikala leave Elephants.
Day 08 : Dhikala:
AM: Game drive in Dhikala area by jeep
PM: Game drive by jeep.
Overnight at Dhikala.

Day 09 : Dhikala / Quality Inn Resort:
Drive back to Quality Inn,enroute stop at High bank to view Fish eating crocodiles ( Gharial )
And Marsh Crocodiles. Also to spot Palls fish eagle,Grey headed fish eagle And White tailed eagle. Packed lunch provided.
Continue drive to Quality Inn. Overnight at the Resort.
Day 10 : Corbett / Delhi:
Transfer to Delhi and deaprture transfer to the international airport time to catch flight for onward destinations.
Tour and services Ends.
top