Clothing in Corbett Park: The clothes you should carry with you to Corbett are totally opposite depending on the season in which you are visiting it. The summers are blisteringly hot ...more

Best Time To Visit Corbett: There are three well defined seasons - the winter (from November to February ), the summer (from march to June),...more

Topography of Corbett :...more

Permits:
The management of Corbett national park has made it mandatory for all tourists to avail permission from government officials in order to visit the park. In case you want to make a day visit, permits can be directly obtained from the respective entry gates.

Visiting Dhikala zone during daytime is not permitted. Exception to this is made only when tours are conducted in safaris organized by the management of Corbett Tiger Reserve. Moreover, only those visitors who have prior accommodation reserved in Dhikala can enter this restricted zone.

How To Reach Corbett National Park:
By Air: Phoolbagh, Pantnagar at a distance of 50 km is the nearest airport. Delhi at a distance of 300 km is the nearest international airport.

By Rail: Ramnagar is on the broad gauge track from where the road transport options have to be availed to reach the park.

By Road: Dhikala is 300 km from Delhi, 403 km from Lucknow and 51 km from Ramnagar. The route from Delhi spans Hapur-Murababad-Ramnagar. The turn off is some 7 km beyond Muradabad to the left, marked by a small board. The route from Lucknow spans Bareilly. Kichha. Rudrapur. Doraha. Kashipur.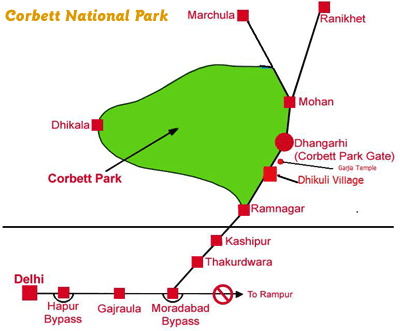 top