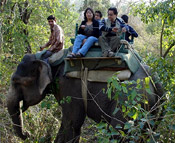 Wildlife safaris in Corbett National Park take you deep inside the forest and enable you to see wild animal closely in their natural habitat, It is the best and only way to explore the national park, wildlife safaris in Corbett can be done in different zones of the national park by authorize gypsys ,elephant and cater. As you cannot take your private vehicles inside the park.Popular zones where you can do wildlife safaris in Corbett national park are Jirna,Bijrani , Durga Devi and Dhikala Zone after making entries at the respective gates.
Although day safaris to Dhikala Zone can be done on canter ( safari bus) operated by the park authorities. However, the capacity for this facility is limited.
Specific trails for vehicles are maintained to enable visitors to watch wildlife at Corbett. Driving off track it is not allowed for reasons of safety. It is to be noted that driving after sunset is strictly prohibited.