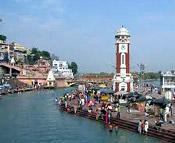 Duration : 04 nights & 05 days
Destinations Covered : Delhi / Rishikesh / Haridwar / Corbett National Park / Delhi

Centred on deep rooted religious beliefs, mysteries and inspiration for many popular romantic writers of the country, Ganges has earned global acclamation for several awe-inspiring reasons. Believed to be the riverine incarnation of goddess Ganga, this sacred waterbody has been blessed with a scenic background intertwined with classic cities, human habitation and sometimes with lofty mountain and dense vegetation. A holy dip in its consecrated water is believed to be utterly divine and rescue one from all sins. The ambience enhanced with sound of bells, conch and aroma of camphor and incense sticks add to the heavenly feel.
On the other hand, the ever alluring land of Corbett National Park is yet another grand attraction that you can't afford to miss out. Flourishing wildlife complemented by a limited number of big cats add to the actual charm of wildlife sighting. Combining both of these spell binding tourist elements together we have tailored the Ganges with Tiger Tour for 4 nights and 5 days.
Spend time in Rishikesh, visit the Yoga centres, Ashramas and temples like Laxman Jhula and let your mind and soul feel the presence of eternal peace. Unwind yourself on the bank of hallowed river Ganges in Haridwar and pay your homage to the shrines of Mansa Devi, Chandi Mata and Bharat Mata Mandir. Be the live witness of famous Ganga Arti at Har ki Pauri. Add zing to the typical religious tour with your visit to the Corbett National Park where you will meet your favourite animals like sloth deer, wild elephants, and unthinkable variety of birds. While the chances of sighting big cats serve as the major attraction of this tour.
Itinerary for Ganges with Tiger Tour
Day 01 : Delhi-Rishikesh ( 235 Kms, 06 Hrs Drive)
Morning drive to Rishikesh. On arrival check in the pre-booked hotel. Have your lunch and take rest for a while. In the evening move out for sightseeing of the famous temple at Laxman Jhula. If you are a strong believer and believes in the power of the divine entity spend some time in the nearby Ashramas. Join Yoga sessions, as Rishikesh is known as the Yoga hub of the country. Depending on your mood and likings, you can be taken for a boat ride over the giant river. Overnight stay at hotel.
Day 02 : Rishikesh - Haridwar
Morning after breakfast drive to Haridwar. On arrival check-in at hotel. Later in the afternoon leave for the sightseeing tour to the temples of Mansa Devi, Chandi Mata, Bharat Mata Mandir and Vaishno Devi Mandir. In the evening visit Har ki Pauri to witness the live aarti of River Ganges, known worldwide for its pomp and show. Overnight stay at hotel.
Day 03 : Haridwar-Corbett National Park:
Day 03 will start with the morning drive to Corbett National Park. On arrival check-in at wildlife resort. Today is free of any activities, so you can explore the scenic environment. If you are lucky enough, you can have a glimpse of some wildlife roaming at a closer distance of your resort. Overnight at hotel.
Day 04 : Corbett National Park:
Wake up early morning to head for the most exciting jeep safari to the Corbett National Park. The ride takes you to the dense Sal forest to let you have a glimpse of tigers and wild elephants. In the later half you will be taken for the elephant ride. Later in the evening visit Garjiya Devi Temple and if time permits we will take you to the Corbett Museum. Overnight at the hotel.
Day 05 : Corbett National Park - Delhi
Morning after breakfast leave for Delhi.
Tour and services Ends.
top