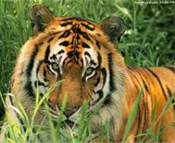 Duration : 03 nights & 04 days
Destinations Covered : Corbett National Park
Itinerary for Corporate Tour Packages :
Day 01: Delhi - Corbett National Park (270 kms 6 to 7 hrs)
Morning meet our escort and drive towards Jim Corbett National Park by Ac coach at 06:00 hrs via Hapur, Moradabad & Kashipur. Breakfast will serve at Tadka Restaurant (Gajrola). On arrival check in to wildlife resort. After welcome drink freshen up time for lunch. After lunch meet our trainer near swimming pool or at Lawn; briefing about the team building games like blind sheep, perfect square etc. by evening time for bonfire, this will be followed by dinner. Overnight at the Resort.
Day 02: Corbett National Park
This is the day when you have to get up early morning to enjoy the real wildlife experience. 4WD morning Jeep Safari inside the National park. Return to the park gates by 1030 hrs, we will pick you from there to resort for breakfast. After breakfast full day team building activity at the resort. Overnight stay at resort.
Day 03: Corbett National Park
After breakfast full day adventure activities at River Kosi. Evening return back to the resort. Today we will arrange a DJ party with Cocktail party for the entire team with bonfire and this will be followed by dinner. Overnight at the resort.
Day 04: (Departure)
Morning after breakfast check out from the resort & drive back to Delhi.
Tour and services Ends.
Team Building Games
1. Perfect Square
All team members are blind folded and then asked to stand in a circle, holding the rope at all time. Now the team members are asked to arrange themselves into the shape of a perfect square.
2. Blind Sheep
Here the focus is on Thinking out of the box, individual effort towards a common goal and communication of ideas. The activity involves an entire group of designated sheep that are blindfolded in a pen that is considered dangerous. The catch is that the Shepherd is fixed to one spot and the communication cannot be in a language that we understand!
3. Shelter Making Exercise
This is a brisk team activity that can be organised on a competitive and non-competitive basis. The game involves breaking up the team into groups and giving them a simulated situation - for instance, you are stranded during a trek while the group has gone ahead and so you have to set up camp to get through the night with whatever is available. Basic equipment is provided and groups are rated for time taken and strength of the construction. Highlights good communication, delegation of work and brings out leadership qualities as well as accepting responsibility.
4. Pipe Dreams
The team has to transport the crazy balls from the start point to the end point using the pipe pieces. At the end point they have to deposit the crazy balls into the glass and only then is the task complete.
5. A-Frame
An activity which is both physically and mentally challenging, it requires each team to use every member available and capable to complete and win the challenge. There is also a huge element of trust that each member has to place on his/her team members to achieve any level of success. The team has to construct an "A" - Frame and then use it to transport the entire team from the designated start line to the finish line. We will give each of the teams' sturdy bamboo, ropes and other props the construct the same.
6. Magic Mats
Teams have to cross the sinking sand on magic mats within the time frame. There is one start line and one end line. Participants have to cross the land between these lines. The land in between is sinking sand. You cannot walk normally. There are Magic Mats to assist you with your task. The mats are available in two sizes. Small ones can have a max of two feet on them and on big ones a max of three feet. Mats should have a minimum of one foot or should be in human contact at any point of time. If the mats are lying vacant at any point of time even for a fraction of second, the will sink or we take them away.
7. Human Ladder
Each team is given wooden dowels that are 2 ft in length. The team has to take members from point A to B by making a human ladder with these dowels. The dowels can take the weight of 1 person easily.
top