Dear Mr. Negi,
Thanks for your assistance. We really enjoyed our trip at Corbett. Looking forward for many more good holiday packages.
Thanks Once again
Regards
Neeta.Baliga.
Dear Surendra
Hello, this is Dr. Joshi from Mumbai. We just finished our 2 nights stay @ Dhikala @ Corbett. It was indeed a wonderful experience and we v really enjoyed it. Thank you for making our stay very comfortable and pleasant. We definitely wish to be associated with you when we plan our next trip to Corbett Thanks again.
Dr. Maulik Joshi, Mumbai
Dear Surendra
This is just to let you know that we have just had one of the nicest trips in our experience, thanks to you, Prem Chopra and of course, your organisation with all its contacts.
All the hotels you booked provided very good service and food too. Dhikala, unfortunately, was without electricity as elephants had apparently managed to damage the supply and so lights were rationed and hot water was not provided. But that was beyond your control and we understand the slip- shod nature of government service. The guides on all forest safaris were excellent.
Thank you and we hope to continue going on well planned trips organised by you.
Swati Dasgupta
Dear Surender
This mail is sent to you to convey our heartful regards for your arrangement made in connection with package trip to Corbett National Park. we enjoyed the trip very much. Convey our regards to Mr. Jaman Singh , Driver. Thanking you, once again.
GANESH,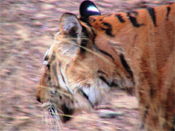 Dear Dear Everybody at Tour My India,
Just wanted to say a big thank-you for our wonderful holiday, and I'm sending you a picture to show how close we got to a tiger(no zoom lens!)
Karen & Colin Wisbey
Tanmay,
We are very appreciative of your hard work in customizing the Corbett wildlife and fishing tour for us. Your responses by email and phone were always prompt and courteous. You tailored our tour package to meet every detail that we requested, at a fair price, and made the whole experience very hassle-free for us. All transfers between drivers and locations from Delhi to Corbett to Dhikala to Marchula to Nainital to Delhi went very smoothly. We are pleasantly astonished by the quality of service provided by your company. Both the Dhikala Forest Rest House and Camp Riverwild were very comfortable accommodations with excellent food and genuinely friendly and helpful staff. We enjoyed the variety of wildlife in Corbett, although we did not see any tigers. Noor stood out as a superb, hard-working fishing guide, allowing us to catch many mahseer which we had been dreaming of for some time. It was very enjoyable to spend three days fishing with him, all your employees were very pleasant, knowledgeable, and delivered a very high level of service.
All in all we had a fantastic vacation, and I hope you have some satisfaction in knowing how your work enriches the lives of your clients.
Ashok Sadrozinski (USA)
Dear Surendra,
Would like to thank you for providing us your wonderful support and excellent service. We had one of the most memorable trip of our life. Your prompt response to our every query, arranging the safari and taking care of every detail helped us immensely. Thanks to your transparent efforts we had a relaxed and stress free travel.
We have already started referring your work to our friends and family. We are also looking forward to contact you again for our next trip.
Thank you so much. Keep up the good work!!!
Warm Regards, Sameer, Animesh & family
My boyfriend and I had the most amazing experience in Corbett and stayed at Leela Villas. We were treated like Kings and Queens! The beautiful surroundings and wonderful private villa was everything we dreamed of and more. The resort gives a sense of exclusivity and the staff were incredibly attentive and the food was amazing! There was a great pool however we travelled in December 2011 and it was 5 degrees so too cold to try it out!
We booked a package trip through tour my india and had a two day safari at Corbett National Park. I would completely recommend the full package with Tour My India everything was included from pickup from our hotel in Goa to pick up from the airport in Goa when we returned.
On the safari we saw elephants, a lepord, wild boar, monkeys and pleanty of birds sadly no tigers.
Beverley Dowling - (UK)
Dear Tanmay,
I would like to thank you for having arranged our one week Corbett trip and 2 night Delhi stay, you understood my requirement perfectly and provided a perfect holiday. The Traveller Van helped us not feel the strain of a 300 Km Journey from Delhi to Corbett, Infinity resort was comfortable at the same time rustic and not overly luxurious helping us get the perfect Jungle feel, the Jeep Safaris were always on time (05:45 AM!!) and very professional, the fishing safari was an experience in itself though the 2.5 Km mountain trek to reach the fishing beats was not anticipated and hence caused some worry to my elderly parents but in all fairness they enjoyed the experience. I would suggest though that you suggest a stay in Bijrani Forest rest house for the serious wildlife enthusiasts as they get an extra 15-20 minutes before park closes increasing chances of a tiger sighting, we did see the Tiger and enjoyed the experience.
I would definitely recommend your services.
Regards,
Naveed Naqshbandi
Dubai, UAE
Mr. Dharmendra Negi
Thank you very much for your nice accomodation arrangement, Thanking Mr. Hari Singh, he is very nice persanality i do not meet him, but he help us more at night when we waiting for check in, Thank you for nice Safari Driver like RIZWAN and precious Guide Mr. Lalit ( Bobby). we enjoy our Corbett Jeep Safari.
Regards
Chandan Upadhayay
Dear Mr.Tanmay Sharma,
This is to inform you that we have completed to trip to Corbett National Park. We are very happy with the arrangements that you had made for us at Dhikala, the safaris, stay etc. We did spot a tiger very closely during our Elephant Safari. A special mention about food at Dhikala restaurant. Amazing!
Thank you.
With warm regards,
Rajan N, Sahyadri School, Pune Maharashtra
Dear Vijayendra,
Tour My India is a good tour company. We are birders so could have spent much more time there just hanging out at the pool watching the sunbirds, etc. The Jeep safaris at Corbett & Rickshaw rides in bharatpur with Mr. Vinad as our guide/driver were marvelous. VJ took wonderful care of us even in India as we booked some additional tours.
We highly recommend Tour My India, our Driver Surender Singh was very good and cooperative. We are fully satisfied with the services tour my India has provided to us. Highly recommended.
Melinda deboer ( USA
)
Good Morning Dharmendra,
We have returned home and are missing India already!! We just wanted to thank you and Mr. Kundan for a wonderful trip to Corbet Park. Mr. Kundan is an excellant driver and was a joy to spend our drive with. He is also very professional and courteous. The Corbet Jungle Retreat was very nice and the food very good. Our safaris and guides were wonderful as well. Thank you for am overall great experience. We will definitly tell others about your wonderful company. Hope to visit again and see you. Thank you again.
Regards,
Bill & Stephanie Lemke (USA)
Hi, Tanmay,
I thought I would provide some feedback on our trip. We enjoyed the trip very much and loved both the safari and elephant ride. The car journey was long but still very interesting to pass through various towns and villages.
Thank you very much for arranging the excellent trip for us.
Best Regards
Mark Ormes, UK
Hi Tanmay
Sorry for the delay - I only arrived back in the UK yesterday and am still trying to catch up with my emails.
So, some feedback. We were very pleased with the pick-up and transport that you provided - it was the most luxurious travelling we did all tour!
We were quite happy with the Wild Crest resort, certainly the food and accommodation and pool were excellent. We were happy with the safaris put on. The group also enjoyed the 'adventure' activities you put on, it was a great way to pass the afternoon.
Although I did not actually go to Agra, all of those who did had an excellent time and enjoyed the Agra tour and really appreciated the guide I think.
I think that's about it. Overall, we were very happy with the Tour My India services.
Many thanks for all of the time and effort you have put into us allowing for a great trip to India!
Luke Reynolds,
Imperial College Hockey Club
London, UK
Dear Ghananand
I want to tell you that we just come back from the Corbett National Park and we really enjoyed it... The Camp River Wild is a very nice and charming place (well located), and everybody had been so kind to us... their team is perfect and the food was as nice as them! it was a real pleasure to be there and i thank you for your good advice and care!.....
Besson Noelline (France)
Dear Mr.Tanmay Sharma,
We have just reached back after an amazing and wonderful holiday in Corbett National Park. Please accept my heartfelt thanks and sincerest compliments for all your efforts in planning and ensuring we had the most wonderful holiday at Corbett National Park. On behalf of my family and those who were supposed to join us in this holiday, we are really grateful to you and Tour My India. We will highly recommend your services to our friends and relatives.
We look forward to book another trip soon.
Best Wishes & Regards,P.K.Deb & family (Kolkata)
Tanmay
Just a quick email to say thank you for reccommending Corbett Jungle Retreat.
What a fantastic place ....... the service was faultless, food was amazing (after a year and a half in India, staying at 5 star hotels I have never had such great porridge or coffee !!) and all the staff were so helpful and friendly.
We all had a great time and thoroughly enjoyed our weekend. Admittedly, there is work to do with regards to standard of accomodation, but the service and people, more than made up for it.
Great value for money and perfect for a short stay.
Debbie
Dear Mr. Dharmendra Negi,
I am back from my visit to Jim Corbett National Park.. I would like to Thank You once again for the arrangements... Mr. Karan Tiwari assisted us through the paper work .. Everything was very well organised..
Our group was very impressed by your services The Bonus was that we sighted a Tiger ...our guide Mr.Dindayal should be greatly appreciated for his efficiency.
Thank You once again.
Regards Aruna Poojary KANDIVALI (WEST) MUMBAI
.
Dear Tanmay,
Thank you very much for providing us the excellent Corbett tour Program. We enjoyed a lot. Car and driver very good! Hotel and workers there very good! Jeep very good! Elephant ride very good!! Food very good! Everything was very good, Keep up the Good Work.
really, Thank you very much for everything.
Best regards,
Clara García Pérez(Spain)
Dear Tanmay
Just a short note to say a "BIG THANK YOU" to you for putting us up at the wonderful Place. The resort was wonderful and we are Happy that we went with your advise and stayed there. The location of the resort is perfect and the rooms given to us were fantastic. The resort has very friendly and courteous staff with exceptional customer service and delicious food. All of us really enjoyed our stay.
Your help and prompt service has really made our holidays. I really appreciate the way we were dealt with while booking with you. The entire process was so smooth, with no hassles whatsoever from the time of the first call to you and the time we reached back to Delhi. We really appreciate the work that you did to make our holidays happy.
Best Regards and all of us are already looking forward to book our next holidays with you.
We were really looked after and came back with
Swati Singh
Dear Mr Sharma,
This is Anand from Bangalore. You had organized a five day tour for my family through Corbett, Ranikhet, and Nainital. All of us thoroughly enjoyed the tour and the tour was very professionally organized. All the hotels booked for our stay were comfortable. Our driver, Mr. Joshi, is a very good driver and takes good care of the passengers.
I will surely recommend your services to my friends who wish to tour North India.
Thanks, Anand

Dear Vijayendra
Thank you for all your arrangement and it was a wonderful trip. The hospitality was very nice. Will look forward to your help again soon.
Kind Regards
Asif
Dear Ghananand
We were delighted with Tour My India, because of your efficiency and attention to detail, and I'm happy to let you know something about the trip. Jerry was really pleased, as he told you in the car, that you answered his email enquiries so promptly and kept strictly to the point, not sending him information about things he hadn't enquired about, but thoughtfully working out exactly what it was we were after. The trip was exactly what we had requested, in every detail.
Thank you for doing such a great job giving us an outstanding holiday. We will definitely be in touch again next time we want to travel in India.
Penny and Jerry Kent
Dear Tanmay,
Here is my feedback from our trip to Corbett. 2 nights in Corbett: outstandingly excellent. You advice to stay inside the park was good - I'm very happy that we stayed inside the park. Our local guide was excellent - always keeping us informed and making sure we were where we were supposed to be at the right time. He took very good care of us. The park naturalist was knowledgeable and interesting. All elephant safaris and jeep safaris were wonderful! Accommodation was basic - but much better than expected. Food excellent. The whole thing was well run and well organized.
So all in our entire trip was outstandingly excellent & we were very happy with the trip and your services.
Best regards
Susanna Axelgaard
Dear Tanmay,
Thanks a lot for your efforts and excellent vacation program. I thoroughly enjoyed my vacation and would definitely have Tour My India as one of my favorites for my future offs.
Hats Off. Keep up the Good Work.
Catch u Soon...
With Regards
Mr. & Mrs. Palanivelu
Dear Vijayendra,
As I said to you verbally, the tour was very well organized, all the pieces of the jiggle were there. Tickets, hotel, transfers (someone waiting for us always), journey by comfortable car, good drivers and safaris also well planned. The hotels as requested were good, some like the ones in Corbett, Bharatpur, and Bandhavgarh were excellent. Therefore we think that you Anil did a very good efficient job.
Thank you.
Hope that we can go back again to India soon.
Yours Sincerely
Begona Alfaro
Dear, Tanmay
First of all would like to extend my thanks for all the arrangements and care that was taken. Our trip was most memorable. Would like to highlight some key aspects of the trip:
1
. Our driver Kundan was just amazing. His driving was skillful. He was warm and his communication skills were good. When we did encounter or needed his help during our stay he made sure that he did all that he could. Having someone like him on board is definitely an asset to your organisation.
2
. Accommodation: The rooms were well maintained. Amenities good. The view was lovely. The food was lip smacking delicious. There was variety every day of our stay and the quality was good. All the service personnel at the resort - from reception, managers, maintenance, housekeeping to the restaurant staff were warm and friendly and made our stay a good experience.
3
. Both our guides, Jitendra and Sameen knew what they were talking about and took us through the safari. Elephant Safari was definitely a highlight of the trip. It was available at the resort it was convenient for us and it was well organised.
4
. Tanmay who has been my point of contact for this entire package has been most prompt and efficient in addressing all queries and providing me with the information that I need. Definitely job well done!
I will definitely recommend "Tour My India" to those interested and look forward to doing this again.
With regards,
Rhea D'Souza,
Dear Anil
Just a short note to inform you that we are now safely back in UK. It took us nearly 2 days after our arrival to get over the jet lag. Gradually trying to get back into the mould of our normal routine.
May I take this opportunity to thank you and all the staff at Tour My India once more for all your help and assistance in making our visit to India a memorable one? We have travelled around the world a fair bit and have used several tour operators in the past including …., but we found your group amazingly friendly, polite, courteous and willing to go extra mile. This makes you special. We would recommend your company to any one without hesitation.
Please pass on our regards to Surinder, Negi Ji and Nandan.
With all our good wishes for the future to every one at Noida office of Tour My India.
Sincerely yours
Surinder Saggar