History of Jim Corbett National Park
At its inception, the park was named Hailey National Park. It was later renamed in honor of the renowned conservationist and naturalist Jim Corbett, who hunted tigers that had turned into man-eaters in Kumaon, Uttarakhand, from 1907 to 1939. Jim Corbett was a staunch believer in the conservation of the ecosystem and wildlife, especially tigers. Hence, Jim Corbett National Park was chosen as the venue for the inauguration of the 'Save the Tigers' project in India. Launched in 1973, one primary intent of Project Tiger is to maintain nature's ecological balance and conserve existing ecosystems. The project aims to foster a natural connection between the wildlife & flora of national parks and sanctuaries and the humans living nearby. It also promotes environmental awareness and preservation efforts.
Spanning the districts of Nainital and Pauri, Corbett National Park covers an area of 1,288 sq. km, encompassing neighboring reserves such as the Sonanadi Wildlife Sanctuary and Reserve Forest. The park is home to over 110 tree species, 50 mammal species, 580 bird species, and 25 reptile species, found both in its lower and higher regions. With its streams, rivers, and ridges crisscrossing the terrain, the park's geographical setup provides an ideal habitat for a myriad of plant and animal species. Among its notable inhabitants are the Bengal Tiger, Asiatic Elephant, Leopards, Wild Boar, Sloth Bear, Jackal, Mongoose, and Crocodile.
Tourists from around the globe flock to Jim Corbett National Park, particularly from November to June, which is considered the optimal visiting period. During these months, visitors can explore the Indian wildlife through jungle safaris available from five tourism zones: Dhikala, Bijrani, Domunda, Jhirna, and Sonanadi. Corbett also offers thrilling activities such as rock climbing, rappelling, river crossing, and slithering, organized by nearby hotels & resorts. One of Corbett's highlights is its vibrancy - once you've explored the park, there are numerous attractions in and around the area, including the Garjia Temple, Kyari Camp, Sitabani Temple, Sitabani Forest Reserve, Bijrani, Dhangari Museum, Corbett Waterfalls, and Sunrise Point.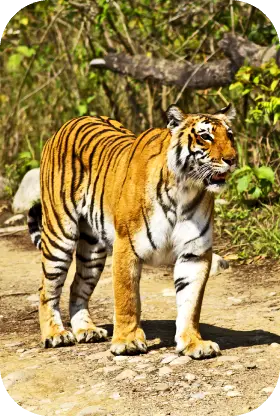 Explore Now