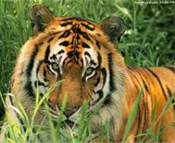 Duration : 03 nights & 04 days
Destinations Covered : Delhi /Corbett National Park /Dhikala /Delhi

Bengal Tigers are reckoned to be the King of Indian Jungles. Living in the deep and dark woods, these Big Cats are a subject of great interest for many wildlife lovers. Tigers have always remained special to India and have been spoken about in several Indian lore and traditions. These largest members of cat family are known for their unmatched power, their ability to camouflage, hunt and keeping of large territories of jungle to themselves. It is nothing but sheer delight to witness such a majestic animal right infront of one's eyes, ofcourse not behind a cage but in its natural habitat. Amongst the various wildlife reserves in India, Corbett National Park has been the favourite haunt for wildlife enthusiasts. Corbett is also the first national park in the country to initiate Project Tiger. Today, this national park offers great opportunity to wildlife aficionados to stay amidst the jungle in the forest lodge and experience the thrill of being closer to these big wild cats. Recently five tigers were spotted in Corbett National Park, which is a sign of assurance that one has fair chances of sighting tigers here. You can watch video below:
Itinerary for Stay With Tigers Tour:
Day 01 :- Delhi- Corbett
Drive to Corbett from Delhi in the morning. On arrival, check-in at the wildlife resort. After the lunch, we shall take you for a Jeep Safari in the national park; this will be guided by an expert naturalist and guide. Apart from being the home of Tigers, Corbett National Park is the shelter for species like sloth bear, deer, leopard, black bear etc. On our Jeep Safari, we shall take you through the Kanda Range, where it is believed that Jim Corbett shot a man-eater tiger. We shall also visit Dhikala/Gairal region and have lunch here. At Dhikala, you have a good opportunity to witness one of the most stocked wildlife libraries in India. Dinner will be served in the resort..
Day 02:- Dhikala Forest Lodge
Early morning Jeep Safari to the national park. After the breakfast, we shall take you to Dhikala/Gairal Forest Lodge by a car/gypsy. Lunch will be served at the lodge. After the lunch; we shall take you for a jeep safari to the grassland to spot elusive tigers. Post safari, return to Dhikala/Gairal Forest Lodge. The lodge is made safe for visitors with the help of solar fence. At night, one can enjoy sitting in the porch area and experience the thrill of being amidst the dark forest that is filled with large number of wildlife species.
Day 03:- Dhikala Forest Lodge
Early morning, we will take you for elephant ride. It is one of the most exhilarating ways of exploring Corbett National Park, as the elephants can take you to the tracks that the jeeps cannot. Also, riding an elephant gives you an opportunity to take a panoramic view from a height of about 10ft above the ground. With packed lunch, enjoy the afternoon at the watch tower (about 1km from Dhikala/Gairal resort) that offers a spectacular view of Ramganga River. Corbett is also a perfect place for birdwatching. One has the opportunity to sight birds like Kingfisher, Crested Serpent Eagle and many more here. The evening Safari will be in the Kanda Range. Dinner will be served in Dhikala/Gairal Forest Lodge. A short film on conservation of Corbett will also be shown.
Day 04:- Corbett Natonal Park - Delhi
Early in the morning we will take you for a Jeep Safari. Return to the lodge for breakfast and later check-out from the lodge. We will take you to Gairal Range Forest, where you will have the opportunity to see reptiles like crocodile and gharial, also sloth bear and herds of elephant can be sighted here. After enjoying the Jeep Safari, you will be directed to set out for Delhi by a car.
Tour and services Ends.
top