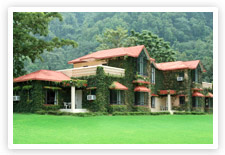 Travelers visit Ramganga Resort by driving through zigzag roads with fresh and gentle breeze. The spot is set amid the sprawling trees and landscaped gardens and offers beautiful view of the mountains and river Kosi. Just 15 mile from Ramnagar, 12 mile from Dhikala and 8 mile away from Durga Devi gate, Ramganga Resort assures the visitors to make their holidays the most extraordinary. The propinquity of the resort to Corbett national park is one of the main aspects that pull the folks from all over the globe.
Accommodation
Ramganga Resort comprises of 30 rooms categorized as safari tent, super deluxe rooms and supreme rooms. The suites are well designed with a chair, closet, dressing table, painting, table and tea and coffee maker, super deluxe rooms include superb view of the mountains and Kosi River from the terrace, living cum- dining- room and beautiful tangible washroom with hot and cold water supply, while the safari tent incorporates chair, table and contented bed. Besides this, the guests can enjoy round the clock room service.
Dining
The mode of the restaurant of Ramganaga Resort replicates the jungle source of revenue. Green climbing plants casing the exterior of restaurant and enhancing the overall beauty. As the resort is situated on the beautiful stage, the visions are terrific and exceptional. Automatically the scrumptious dishes served around this kind of environment will add a grand touch to your appetite.
Facilities and activities proffered at the resort are:
Internet facility
Swimming pool
Elephant safari/jeep safari
Tennis and jogging trail
Laundry service
Badminton court
Credit cards accepted
Car rental service