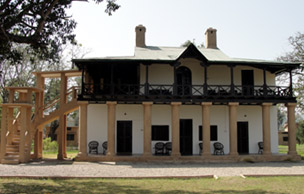 Dhikala Forest Lodge is a forest department run rest house that lays in one of the most diverse safari zones of renowned Corbett National Park. With Kanda ridge in backdrop, the lodge is an excellent choice to stay amidst the calmness of Ramganga and wilderness of the park, especially for wildlife enthusiasts. It is the most sought after accommodation choice to stay in the park designed for those who can escape from their luxurious comforts and can breathe some fresh air in the mid of dense Sal forest.
Location : The location of Dhikala guest house is about 30 kms away from Dhangadi gate, within the park. Have some picturesque views of the surrounding nature's beauty enroute to the rest house as this journey is full of adventure and memories. Spot various animals like Sambhar, spotted deer, fox, elephants and sometimes tigers too during your voyage. But it is good to keep in mind the entry timing, i.e. 1000 hrs till 1600 hrs.
Accommodation : Dhikala Forest Lodge is not a luxurious lodging property and thus focuses on the basic needs of the explorers only. It features a range of 32 well-ventilated and maintained rooms that are categorized into various wings. Every room is equipped with basic amenities like attached bathroom with running hot water facility. In addition to these guestrooms, the lodge also features 2 dormitories with 12 beds and a common bathroom in each one.
Dining : As per dining is concerned, guests can enjoy vegetarian buffet course at the on-site restaurant at Dhikala Tourist Complex.
Other Facilities and Amenities : Besides accommodation and dining, Dhikala Guesthouse does not provide any other facility or service. However, there is a small general store from where guests can buy necessary things and a library to enjoy reading or watching something wild.
About Corbett National Park : Dazzle by the vastness of silence broken on intervals by the rattle of insects along with the rippling Ramnagar River and feel the rush into your veins every time on roars and trumphets! Corbett National Park, situated in Nainital District of Uttarakhand, is a jewel of India's wildlife treasure.
The park is well connected with various locations and can be easily accessed from every corner of the nation. Phoolbagh, Pantnagar (about 50 km) is the nearest domestic airport while the closest international air base is at Delhi, around 300 kms away. However, it is good to commute through rail. The closest railway station is Ramnagar at a distance of 51 km. The station is well-linked with the park through good modes of road transport.
Nearby Attraction Points : Watch Tower, Crocodile Pool at Gairal, Sambar Trail and natural grasslands are some of the nearby attractions within the circumference of Corbett National Park. Being of a strategic position, the lodge remains high on demand and that's why make Dhikala Forest Lodge booking well in advance.