3 Nights 4 Days - Corbett Jeep Safari Package
Duration : 03 nights & 04 days
Destination Covered : Delhi / Corbett National Park / Delhi
Having a glimpse of India's most popular national park Corbett is no more a matter of hassle. Keeping in mind your classy taste of travelling and sighting wildlife from close proximity Corbett Jeep Safari Package is crafted with special care. Taking care of your shortage of time a 3 nights and 4 days' trip is tailored that will satiate your insatiable hunger of seeing tigers roaming in their natural habitat. A night stay in Dhikala Forest Lodge adds to the thrill of this exciting trip when you might hear the sound of roar from your lodge. Located amidst the dense forest, this lodge is an attention-grabbing element of the trip and let you feel the charm of living closer to the bare nature.
Moreover, the jeep safari is another exhilarating part of this trip that takes you to the core part of the dense Sal forest where you can see the big cats living blissfully with its family. Have a glimpse of some of the most dangerous species of crocodile like Gharial, hungry mugger and the peace loving turtles in Gairal Range Forest. However, the appearance of wild elephants taking bath in nearby waterbodies would add to the versatile nature of this trip. Animals like sloth bear, black bear, deer, and leopard are found roaming in nearby areas while you take a ride on elephant or jeep. Witness the spot where Jim Corbett killed the notorious Kanda Man-Eater while passing over the Ramganga River.
Detail Itinerary :
Day-01: Delhi-Corbett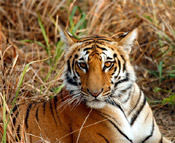 Early morning drive to Corbett from Delhi. On arrival, check-in at pre-booked wildlife resort. After having lunch a short drive will take you to the Corbett National Park. The jeep safari will further take you to the dense Sal forest of Corbett Tiger Reserve. This trip moves further under the guidance of an expert naturalist and guide. You can have a glimpse of tigers and a variety of wildlife especially sloth bear, black bear, deer, leopard, wild cat etc. While going over the Gathia Rao Bridge, you can see the spot where famous hunter Jim Corbett shot the Kanda Man Eater. Arrive at the central zone of Dhikala, have lunch and lose yourself in the quaint nature of its locale. Dinner and night stay at resort.
Day 02:- Dhikala Forest Lodge (Corbett National Park)
Wake up early and you will be taken for a Dhikala/Gairal Forest Lodge by a car or gypsy. Coming back take rest for a while and have your lunch. By the afternoon you will be taken to the grasslands on a jeep safari to see the wildlife particularly the elusive tiger. To ensure your safety, the lodge is secured by the effective solar fence. So, you can sit on the open air Verandah to hear the goose bumping sound of the wildlife echoing in the adjacent jungle. Dinner and overnight stay at Dhikala/Gairal Forest Lodge.
Day 03:- Dhikala Forest Lodge (Corbett National Park)
It is said that tigers are better seen at dawn. So get ready for an early morning elephant ride before you have your breakfast. Have your lunch and spend your afternoon on a watch tower which is around a km away from the Dhikala Resort. Afternoon is booked for your amusement on another round of jeep safari that will take you along the Ramganga crossing the river at the Gathiarao bridge to the Kanda range. Coming back to the resort have your dinner. Nightstay at the Dhikala Resort.
Day 04:- Corbett National Park - Delhi
Check out early morning from the resort to see the mesmeric morning views of Gairal Range Forest. Here the chances of witnessing reptiles like Turtle and different species of crocodiles, and deer jumping in their spontaneous flow in different corners of the jungle. Wild elephant herds taking bath in nearby water. Once you are done with the activities you wish to do, a jeep will take you to the station for further voyage.