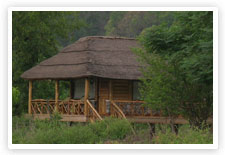 Camp Riverwild Resort is spread across the river Kosi and an escapade to plush facilities, adventure, natural ambience and awesome hospitality. Set at the excellent location overlooking the beautiful landscape and fortune of nature. Anybody would love to spend their most memorable days at the destination where you are being treated and served none other than a family member. Whether you visit the resort during winter on summer, it brings surprises and improvised amenities through the year to make your holidays an unforgettable one.
Accommodation
The resort accommodates 6 luxury suites, each is fabricated with great designs and woods laced to enrich the delight of staying amid the Mother Nature.
The suites are very well ornamented with stylish bathrooms, private deck, thatched roofs, wooden floors, air conditioning and many more. On the private deck you can lay, relax or play games with your closest friends.
Besides this, exciting wildlife safaris and a chance to have a glimpse of the various wildlife species in their dwellings add a phenomenal experience to your holiday.
Facilities
The facilities offered at the resort are liked and appreciated highly by the guests. If you want to relish all of them, then visit Camp Riverwild Resort today only. Have a look below at few of the facilities catered at the resort:
Plenty parking facility
Doctor on call
Gym center and spa treatments
Laundry service
Round the clock room service
Travel desk
Indoor games
How to Reach
It takes 6 to 7 hours drive from Delhi by road and by train it will take around 8 hours journey to Ramnagar railway station, which is situated at a distance of hardly 7 mile from the resort.