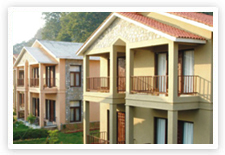 Fulfill your desire of getting close to nature at Corbett Tiger Den Resort, one of the preeminent hotels in Corbett. Stretched over an area of 8 acres of lush greenery, it gives the impression of being alive with beautiful elements like colorful flowers, natural environment and bushes. The wooden floors with artistic designing on the walls will tantalize your stay and make it the most excellent journey of your time. This is an outstanding place of escape for pleasure seekers and nature enthusiasts. The rambling trees surrounded by the resort are incredibly beautiful. But don't forget to dig into the scrumptious cuisines as these are often loved by the travelers flocking to Corbett tiger den resort.
Accommodation
Guests can choose the perfect room for their stay from 24 deluxe accommodations. All the rooms are executed brilliantly to add a charm in the stay of the guests. Besides this, each of the rooms is endowed with plush amenities like television, WI-FI connection, closet, dining table, round the clock room service and attached washroom.
Dining
The resort caters a variety of Indian, Chinese, Mughlai, and Continental and Kumaon dishes to excite the taste buds of the guests. In addition to restaurant, it offers various lip-smacking drinks and nibbles from the coffee shop.
Facilities
Health and fitness center
Swimming pool
Multi cuisine restaurant
Laundry service
In house shop and library
WI-FI Access
Car parking available